A Division of the International Studies Office
Our Interns
Want to be an Intern with the ISO? The application process takes place every summer and students are selected for the following academic year. Check back soon for information about our 2020-2021 interns. Our 2019-2020 interns are:
Victoria Annen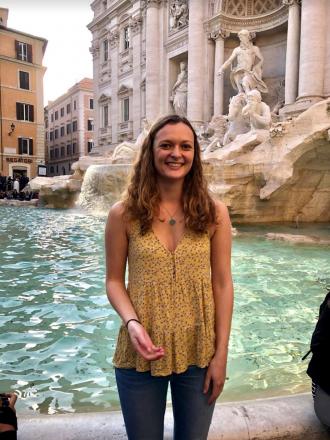 Hi! My name is Victoria and I'm a third year majoring in Biomedical Engineering. I spent last spring semester in Madrid, Spain, with IES Abroad. Studying abroad was an amazing opportunity to meet new people, immerse into a completely different culture, and explore as many places as I could during my time there. Since it was not a UVA program, I lived and travelled with people I had never met before and quickly made some of the closest friends I've ever had. We bonded over hiking to Portuguese castles, wandering through ancient Roman ruins, and eating French crepes at the Notre Dame. While taking engineering classes, I was also able to explore my interests in art, history, and culture. Doing so with new people really opened my eyes to different perspectives and let me develop my own opinions and gain confidence in them. Studying abroad really made me evaluate my beliefs, and I am excited to keep travelling and exploring the person who I want to be.
Alex Boswell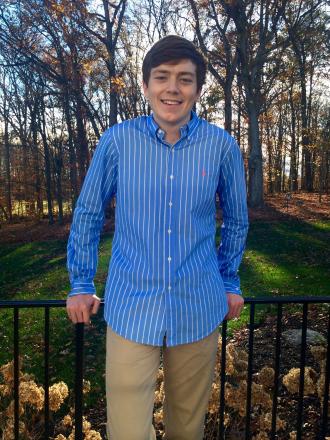 Hello, my name is Alex Boswell and I am a 4th year studying Economics and Foreign Affairs. In the Spring of 2019, I studied abroad in Barcelona, Spain with IES Abroad. For me studying abroad was a chance to expand my horizons and see a part of the world I'd never been before. That spring I traveled to many places spanning across 9 countries and a multitude of cities. This was on top of a 16 credit hour course load based around Politics and Economics. Touching down in a country where the first language wasn't English was terrifying and at times extremely frustrating. As trying to communicate with my less than perfect Spanish in a region that speaks a flair of the language was a challenge I had to overcome on a daily basis. The confidence I had in myself grew throughout the semester and this daily challenge I faced became easier and easier. From the Brandenburg Gate to the Mona Lisa, the beauty of studying abroad for me was having the ability to see things that I had only seen in photographs. I was in awe of the ability to have pictures become a reality to me throughout those 4 months. Overall, now back on Grounds, I already miss the 30-minute metro ride to class and the FC Barcelona fans shooting off fireworks outside my apartment on Tuesday nights. I'm thankful for those four months and hope someday I'll be back in Les Corts reminiscing about that semester abroad.)
Caroline Dibble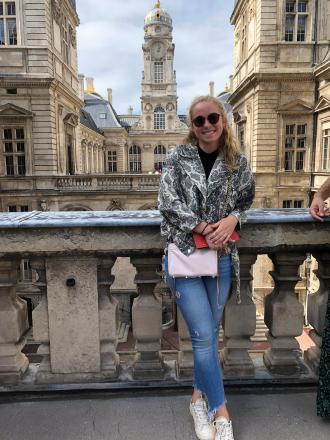 My name is Caroline Dibble and I am a fourth year studying foreign affairs and history. I am also pursuing my masters in religious studies with a concentration in religion, politics and conflict through one of UVA's expedited master's programs. I first studied abroad over summer 2018 in Ifrane, Morocco at Al-Akhawayn University where I studied Arabic language and culture. I then studied abroad in Lyon, France at Sciences Po for the fall 2018 semester where I studied political science and history alongside French students. I wanted to go abroad to expand my language skills in French and Arabic in a linguistically and culturally immersive environment. Aside from traveling to new countries and cities, my favorite part of my time abroad was meeting native students. This not only helped me improve my French and Arabic, but gave me unique experiences and introduced me to new perspectives. One of the ways in which I did this was by joining the women's soccer team, "Les Dragonettes", at Sciences Po.  I was able to meet amazing people that I still keep in touch with today and hope to visit in the near future!
Janice Figueroa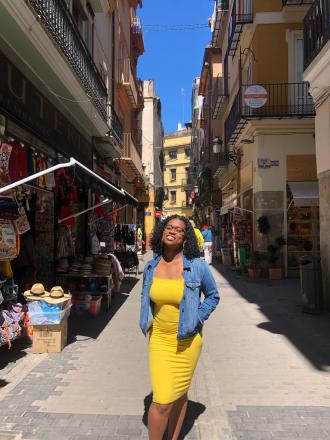 My name is Janice (juh-niece) Figueroa and I studied abroad in Valencia, Spain in the spring of 2019. I am from Elizabeth, New Jersey and I culturally identify with Dominican Republic. I am a third year double majoring in Linguistics and Youth & Social Innovation. I chose Spain because I have always wanted to travel to Europe and especially to learn more about the Spanish dialect. As a native Spanish speaker the various dialects of the Spanish language have always fascinated me! Even though I was already fluent when I travelled I still learned so much and was able to further enrich my knowledge of Spanish. While over there I got to also travel to London and Rome and learn a little about the cultures in those places as well. My experience abroad was amazing, the faculty in the program were remarkable and really cared about the students. Studying abroad also gave a new perspective of life. My new motto after being abroad is, "be a tourist in your own home." There's no reason why the fun should stop just because I am back home! It was truly the best decision I have ever made and has wholeheartedly made me a better person in ways that I am still trying to put into words. When I see other people going abroad(especially to Valencia) I don't get jealous at all (ok, maybe a little!). I get very excited because I wish upon everyone the chance to study abroad and have an enriching experience.
Meghan Hale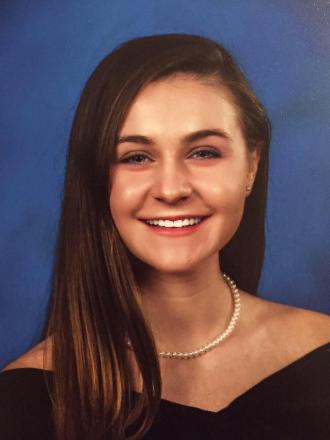 Hi, my name is Meghan and I am a fourth year studying architecture and global sustainability! I studied abroad last spring semester in Florence through UVA's ISI program and had my most challenging yet rewarding semester yet. Because studying abroad was my first experience traveling by myself, I definitely had my fair share of traveller's errors. From missing trains to almost ferries, to running out of gas in my moped miles away from a gas station to spending countless hours getting lost in cities, you name it. But from this series of unfortunate events, I found so much self-confidence in my decision making abilities and capacity to adapt to difficult situations. Unlike a lot of study abroad stories that are typically told, I spent the majority of my time remaining within Italy. The level of cultural immersion I was able to experience was without a doubt the most rewarding aspect of my study abroad experience and what made me fall in love with the country. Over Easter break I took the opportunity to visit the small island of Sardegna and was invited by the owner of the airbnb I was staying in to join her family in Easter brunch. To say that the family didn't speak a lick of English is an understatement, and I by no means consider myself even close to claiming fluency in Italian so of course conversation resulted in many hand signals and awkward laughter. But despite the barrier, this memory continues to remind me of the intimate relationships that can be created in such a minute segment of time within a study abroad experience and how rewarding it can be to connect with someone who's life is drastically different from your own. Returning to UVA after a semester of being abroad has its ups and downs, but academically, my biggest takeaway from my time in Italy was an understanding of my own interests and passions. As you can imagine, studying architecture in Florence for four months is every architect's dream. But both unfortunately and fortunately for me, during this time I came to the momentous realization that I do not want to be a so-called "architect". The time that I spent in reflection with myself over this 4 month journey was transformational in how I viewed my life and the decisions that I have made since then. Since returning, I have changed my minor (twice actually), found a new job that pursues my interests, and revisited my love for reading. I look forward to many more experiences as fulfilling as my time abroad and am already planning my next one!
Katie Mulder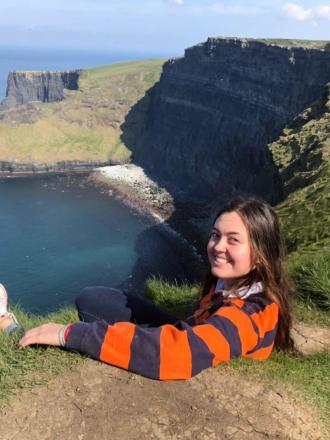 Hi! 'm Katie Mulder, and I am a fourth year majoring in Foreign Affairs and Global Environments and Sustainability with a minor in Public Policy and Leadership. I spent last spring semester on exchange in Nottingham, England. Despite my initial fear of being the only UVA student in Nottingham, I immediately connected with other students studying abroad, and even made a lot of British friends. My favorite memory would have to be backpacking through Hungary, Slovakia, and Austria with my friend from London. In terms of my academic experience, I had the opportunity to take a class specifically on Brexit, and was able to intern for my professor! Before last spring, I also spent the summer after my second year participating in UVA in Valencia. Although much different from my semester in Nottingham, I loved being able to practice my Spanish every day, become close with my host mom, and immerse myself in Spanish culture. Both of my experiences have allowed me to become more proactive and independent, and make friends from all over the world. I plan to return to both Nottingham and Valencia soon! 
Nhi Nguyen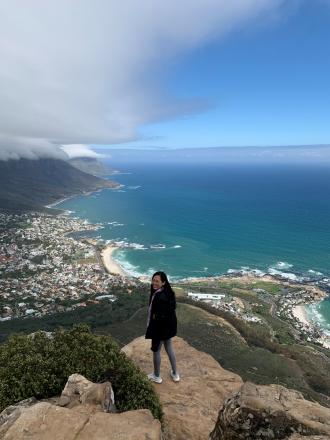 Hello! I'm Nhi, and I'm a fourth year studying Economics and Spanish. Last fall, I was in Valencia, Spain. Having only taken Spanish up to the 2020 level, I went home being able to hold a conversation with my long-term boyfriend's family. I embraced every challenge from getting lost on the bus more times than I'd like to admit to waiting in the freezing cold to get tickets to the Alhambra at 5am (which I wasn't able to get in the end). I traveled as much as I could, gossiped with my host mom, and ate a satisfying amount of pastries. This past summer, I went abroad again in Cape Town, South Africa with iXperience, where I learned about South Africa and Cape Town in four sectors: art, conservation, history, and archaeology. Afterwards, I participated in a 2-week program, learning what management consulting is and how to be a consultant, which I then applied towards an internship for the rest of the summer all while taking in the sunset views, hiking one of the world's seven natural wonders, and hugging some elephants on the side. Being abroad has taught me to be okay with the unfamiliar. By placing myself in situations outside my comfort zone, I've learned that there's a lot that 'm capable of that I didn't realize before. Now that I'm back for my last year, I strive to continue to push myself outside of my comfort zone.
Paige St. John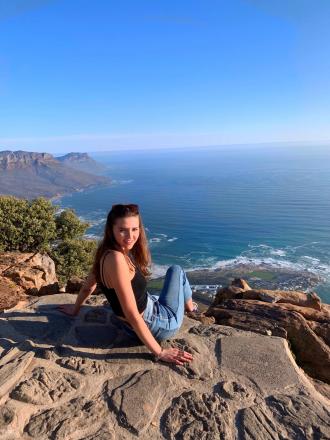 Hi, my name is Paige St. John and I'm a second year. I spent my first semester in London, and had so much fun that I decided to study abroad again this summer in Cape Town, South Africa!  If I hadn't studied abroad, I would have missed out on going to plays, concerts and museums for class.  I would have missed out on the Christmas lights over Oxford Street, and on seeing elephants in the wild.  I would have missed the breathtaking views at Cape Point, lots and lots of wonderful food, and on developing some of my closest friendships.  My experiences abroad have easily been some of the most formative of my life.  Studying abroad allowed me to experience different cultures and languages, and to explore my interest in public health.  I would recommend study abroad to anyone looking to expand their world, and would love to be a resource as you consider your own adventure.
Liz Stais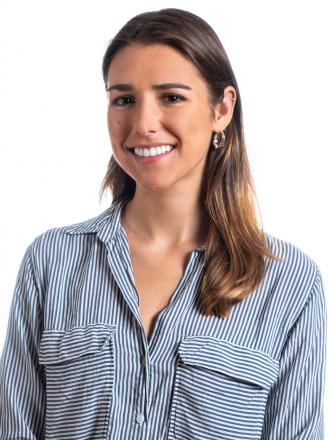 My name is Liz Stais and I studied in Copenhagen, Denmark with DIS in the spring of 2019. As a Global Studies major and Economics minor, my professional goal is to integrate sustainable principles and corporate business strategies. I wanted to experience a culture and academic environment that focuses on sustainability so I chose to study in Denmark. I gained exposure to real world sustainability applications, such as the opportunities to climb to the top of a 150 meter Danish wind turbine and meet with corporate executives from sustainable firms like Chr Hansen. Perhaps more importantly, studying abroad allowed me to experience a new culture and meet new people from UVA and around the world. My experience abroad was academically exciting and also gave me a greater sense of self through being on my own in a new environment.